Cardano (ADA) has once again seen a sharp rise in trading activity in general and buying interest in particular after a mysterious announcement by Ledger regarding an upcoming app to the Ledger Nano S device. Details of the app are not yet known but Ledger said that it is one of the most requested apps which led many to conclude that Cardano (ADA) might be finally coming to Ledger. This is further strengthened by the fact that Charles Hoskinson, the founder of Cardano (ADA) recently posted pictures of his Cardano (ADA) Ledger devices. A lot of people commenting on Ledger's post regarding the upcoming app also said it was going to be Cardano (ADA) which further indicates that this might have indeed been the most requested app.
If Cardano (ADA) ends up on Ledger, we might see ADA/BTC explode massively during the next bullish cycle. Cardano (ADA) has been around for a while but this would be the first time that investors will have a safe way of storing their ADA coins. It is no surprise that a coin with the potential of Cardano (ADA) has made a lot of progress even during the bear market. Popular cryptocurrency exchange Binance has ADA pairs and so do many other exchanges. Cardano (ADA) is making a lot of waves in the crypto community and has the support of a lot of followers and investors. It would appear that after Ripple (XRP), Cardano (ADA) has one of the most vocal communities that frequently talks about the project on Twitter.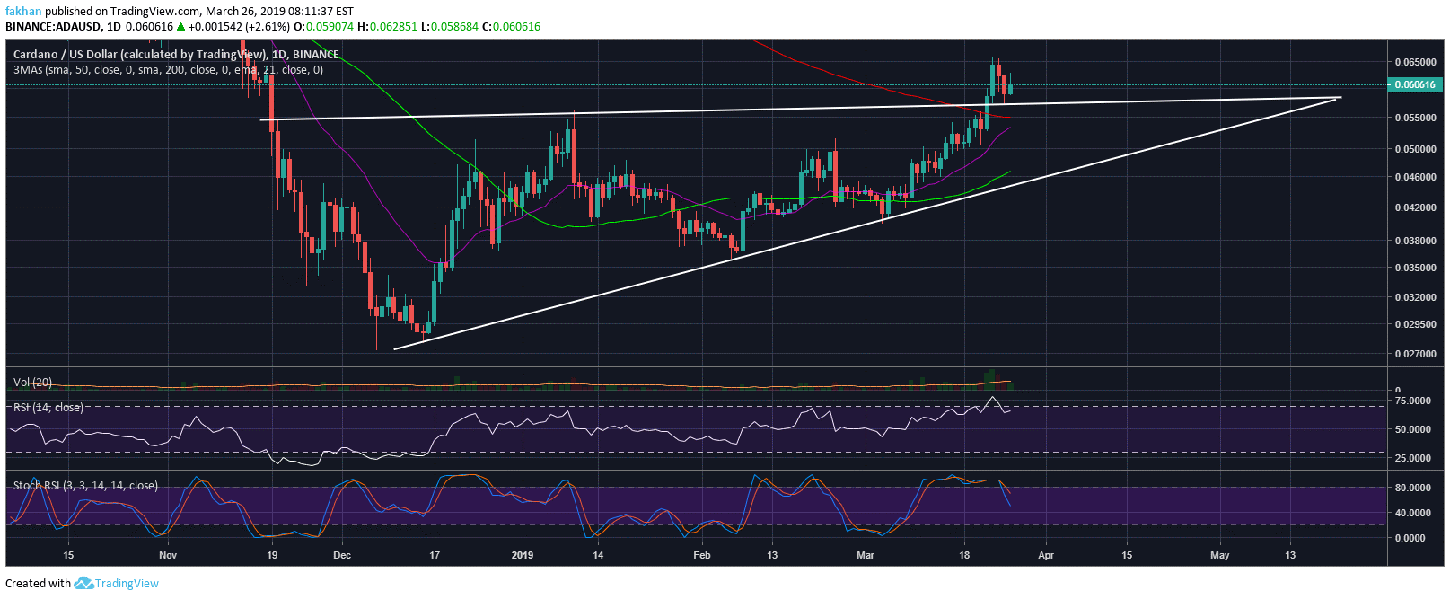 Cardano (ADA) is one of the few cryptocurrencies that is currently trading above its 200 day moving average. If market conditions were different, we might have seen the price rise aggressively so far. However, the fact of the matter is that the long term outlook for Cardano (ADA) might be very promising but short term, the price is likely to decline further. Even the daily chart for ADA/USD indicates the possibility of further downside that could pull the price back into the symmetrical triangle that it escaped from last week.
RSI for ADA/USD indicates that there is room for further downside if the price fails to recover from current levels. The price has tested the previous trend line resistance as a new support but in the absence of bullish continuation this level is likely to fail. If Cardano (ADA) ends up on Ledger in the near future as we expect it to, we would most likely see a rise in buying activity in ADA/USD that would last throughout the next bullish cycle. On the other hand, if this announcement comes in sooner than expected in the days ahead, we should see it give Bitcoin (BTC) a helping hand to rise towards $4,500 in the days ahead. Both of these events are highly probable as we expect Cardano (ADA) to end up on Ledger as well as Bitcoin (BTC) to rise in the near future.