Neo (NEO) long hailed as the Chinese Ethereum is now on an ambitious plan to grow its community. In the past few months, we have seen Neo (NEO) make a lot of progress towards building a loyal community. In this market, a loyal community is even more important for the survival and growth of a cryptocurrency. No matter how weak a project might be from a technological standpoint, if it has a loyal community it will do well. In the past, we have seen this force keep a lot of projects relevant and we have also seen the absence of this force render a lot of good projects obsolete. One of such blockchain projects with minimal use cases but a strong community is Dogecoin (DOGE). Strong community support keeps demand for projects like Dogecoin (DOGE) alive.
If Dogecoin (DOGE) can do so well with a strong community, Neo (NEO) can certainly do a lot better considering its superior technology and widespread use cases. The Neo Ecosystem is even better than that of Ethereum in most ways. However, for a long time the team behind Neo (NEO were focused more on the product than marketing of the product. Although Neo (NEO) enjoyed a lot of hype during the bull market, the interest was mostly organic and the team did not feel the need to project their work like Ripple (XRP) or even Ethereum (ETH). The daily chart for NEO/USD shows that the cryptocurrency is currently trading above its 50 day moving average and is very close to its 200 day moving average. This means that a few strong moves to the upside might result in the cryptocurrency triggering a golden cross which would be an extremely bullish development that can propel its price even further.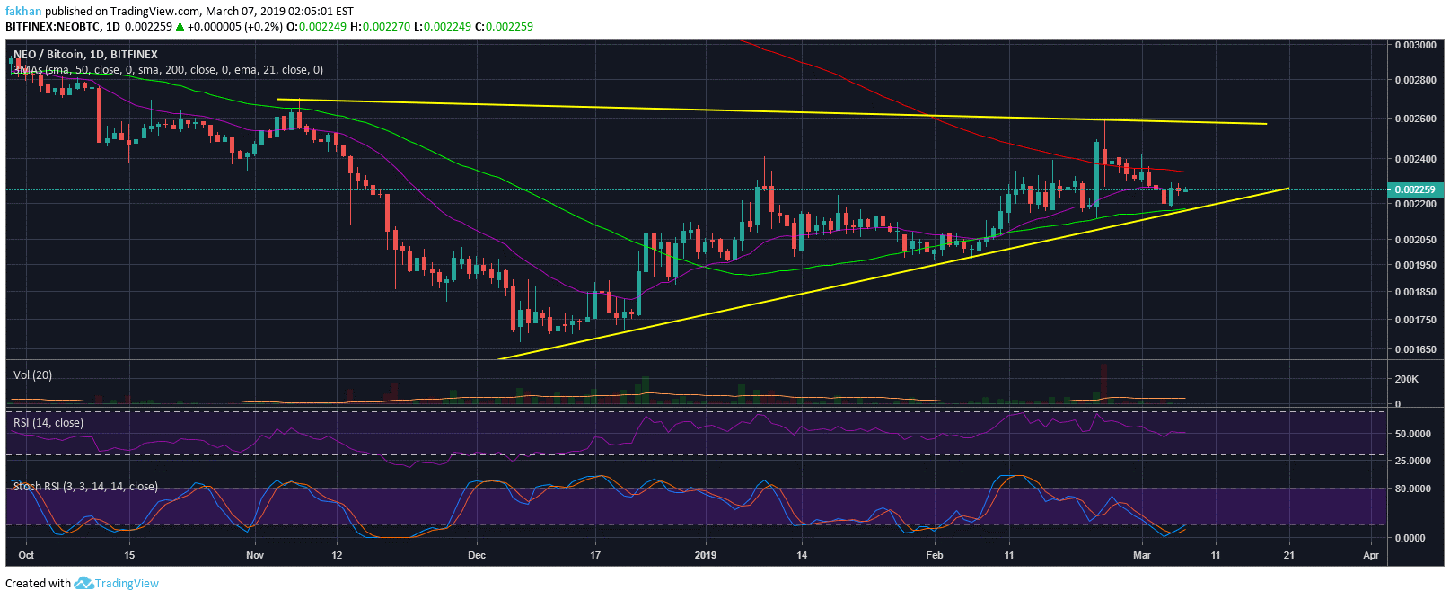 Neo (NEO) shares a similar outlook trading against Bitcoin (BTC). The daily chart for NEO/BTC shows that the cryptocurrency is just one strong rally away from a break above the 200 day moving average which would trigger the long anticipated golden cross. If that happens, we might see NEO/BTC rise a lot higher short term. On larger time frames though the cryptocurrency is nearing overbought conditions which means there might be plenty of room for another correction to the downside before the actual bottom is reached. The daily trading volume has dropped significantly but the sell volume seen on some days has the highest it has been in months which shows that a lot of professional investors are just looking for key levels to sell and that it might be a while before they start buying again.
The daily chart for NEO/BTC shows that the price is still struggling to break past the 21 day exponential moving average. However, if it succeeds in breaking out before overbought conditions are reached on the daily time frame; we might expect a price boost short term. Neo (NEO) is a promising project with a lot of future potential. In fact, it is one of the few projects that are expected to remain relevant for a long time as the cryptocurrency market continues to evolve.