Ethereum (ETH) is trading within a large bear pennant that can also be considered a symmetrical triangle. In the past few weeks, ETH/USD broke one such pennant to the upside and the price pumped hard in the weeks that followed. It is once again on the verge of a breakout and technical indicators suggest that we could see a fake out this time. RSI on the daily time frame has bounced off after finding a strong trend line support. The Stochastic RSI has plenty of room to go up as it is near oversold territory. This means that the least we could expect is further sideways movement if not a rally to the upside. This week's close is also going to be important which is why traders might want to wait some more for a better setup before they go shorting Ethereum (ETH).
As we have mentioned in our previous analyses, ETH/USD is massively overbought on the weekly time frame and is due for a major correction in the near future. However, that correction does not have to be one big fall to the downside. It could happen in a lot of ways but the most probable scenario is that we will see the price decline in a manner that will confuse both the retail bulls and bears. The way this could happen is that we might see a decline in the next few days or the first few days of next week. After that, when most traders are expecting the price to fall further, we might see a rally that will unnerve the bears. Just when excited bulls get back on the bandwagon, we are going to see the final corrective wave to the downside that will make a lot of bulls lose hope in this market in general and Ethereum (ETH) in particular.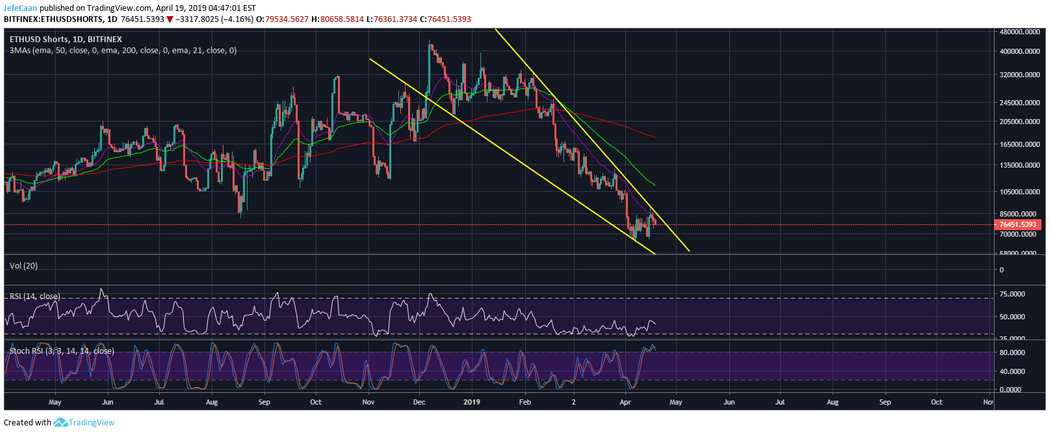 The daily chart for ETHUSDShorts shows that the number of margined shorts is overbought short term. The Stochastic RSI signals a big drop in the number of margined Ethereum (ETH) shorts in the days ahead. This could see ETHUSDShorts decline to trend line support around which time ETH/USD might rally to the upside. Considering that ETHUSDShorts is currently trading below the 21 day EMA, it is going to be very hard to see bearish momentum get in the way of a bullish move at this point.
Even though the price of Ethereum (ETH) is certainly overbought long term and due for a major drop, it does not mean that the bears are in control just yet. If anything, the bulls are still in a better position and taking a short position at this point could be disastrous. This is why traders are advised to wait for a retest of previous resistance levels during the next few days. The price of Ethereum (ETH) is currently trading around $174 but it could pump hard soon as it breaks above $180 in the days and weeks ahead.