There has been a movement on Crypto Twitter recently urging cryptocurrency enthusiasts and others to dump Gold for Bitcoin (BTC). The weekly chart for Gold does not look like something that is due for a major correction. In fact, it has already had a correction and is now likely to correct to the upside. Bitcoin (BTC) bulls that called for a rally in Bitcoin (BTC) and the end of Gold did however agree to the inverse correlation between Gold and Bitcoin (BTC). Whether that's a good thing or a bad thing I'll leave it to the readers. Personally I think if Bitcoin (BTC) is meant to be digital gold, it is a bad sign not a good sign that it would rather follow the S&P 500 instead of Gold.
Now, Gold is certainly at a point where things could go worse from here. However, this is nothing in comparison to BTC/USD and the S&P 500 that are both due for major decline on larger time frames. Some people get concerned over words like definitely due for further downside or it has to come down because they think nothing has to happen for sure in a market like this or any market for that matter. While I agree with that statement for the most part, I have to say that there is a reason market cycles exist. Things happen over and over again in a cyclical manner and if anything shoots up straight especially in an artificial manner, it has to come down sooner or later. The reason that happens is because additional buyers are not comfortable buying around those levels when the price has rallied artificially.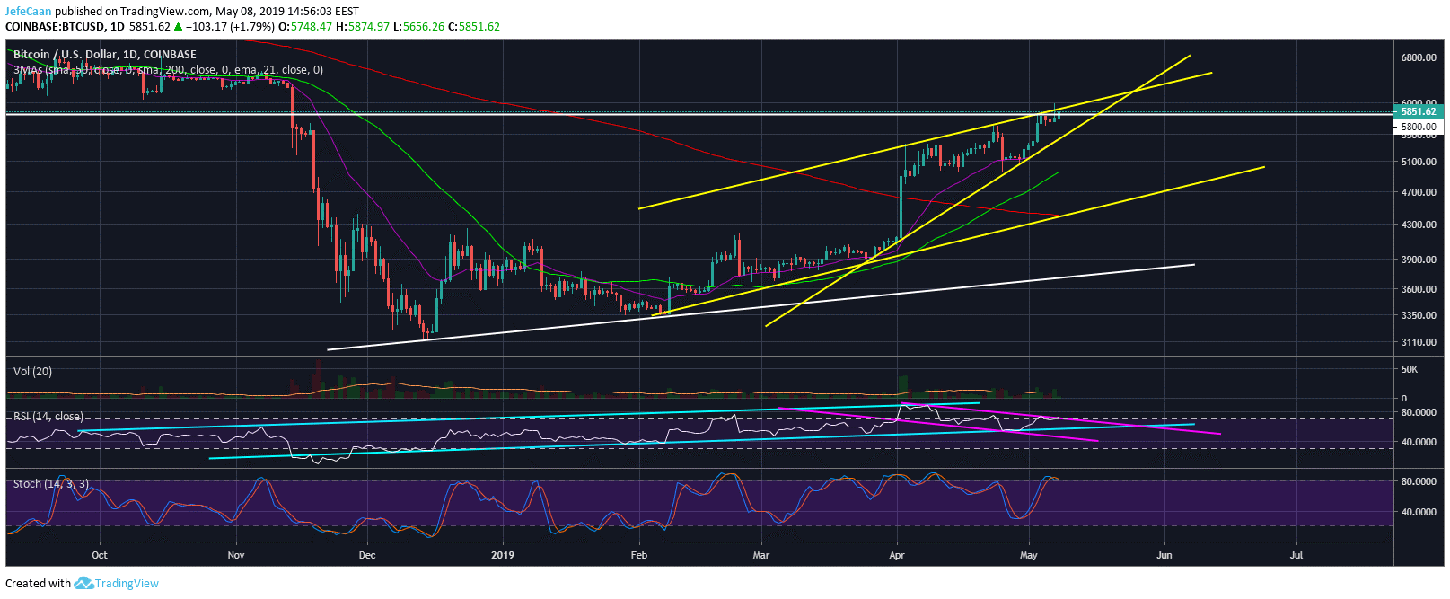 Let us now look at the daily chart for BTC/USD. Nothing about this chart is bullish and everything about it is bearish. The price is trading in a large ascending wedge and is currently trading within the resistance zone of $5,800-$6,000. RSI shows a clear bearish divergence and the price has to break out of the ascending wedge sooner or later. Some things in markets are certainties. For instance, there is no question that the price will have to break out of the rising wedge sooner or later. Whether the price falls to find support around the bottom of the ascending channel or whether it falls further remains to be seen.
The ongoing bear market is not likely to come to an end in weeks; it is going to take months. This is not just about Bitcoin (BTC). Once again tensions are starting to rise on multiple fronts. There is the US-Iran crisis, the trade war with China and war in the Middle East. Most of these developments have a very high probability of taking a big toll on the stock market in the near future. Besides, we have a seasonality pattern here too where investors sell in May and go away especially when everyone can see that the stock market has topped out short term. It might be difficult for traders to catch the bottom but value investors that buy low and sell high are already out of the game in both the Bitcoin (BTC) market and the stock market. It is therefore a good time to be accumulating Gold to prepare for the upcoming crisis compared to Bitcoin (BTC).