Bitcoin (BTC) is all set to decline to a four digit price. The probability of it rallying towards $11,000 is slim at this point as it seems determined to decline below the key 61.8% fib extension level. The 61.8% fib extension level was previous a support but now it has been tested as resistance and the price has faced a rejection there. It is important to note that not only is BTC/USD likely to decline towards the bottom of the descending triangle but it is expected to break below it during this upcoming move. This would see the price find a temporary support just below the $9,000 mark before it declines further from there. So far, there is nothing working in favor of the bulls and the bearish momentum remains strong.
There is a lot of fear in the market at the moment. If the price keeps on declining, we will see extreme panic selling follow and this could lead to a major crash in the price of Bitcoin (BTC). It is important to note that even if BTC/USD ends up climbing back above the 61.8%, it would still be closing the day below the 50 day EMA which is an extremely bearish development and marks the beginning of another downtrend in Bitcoin (BTC). Soon as the price declines to four digits this time, we will have confirmation that the bear trend has begun and even a lot of bulls would slowly begin to be convinced that we are not out of the bear market just yet. In fact, Bitcoin (BTC) has to fall a lot lower and all this greed and bullish euphoria that we see in the market has to die down before the next bullish cycle can begin.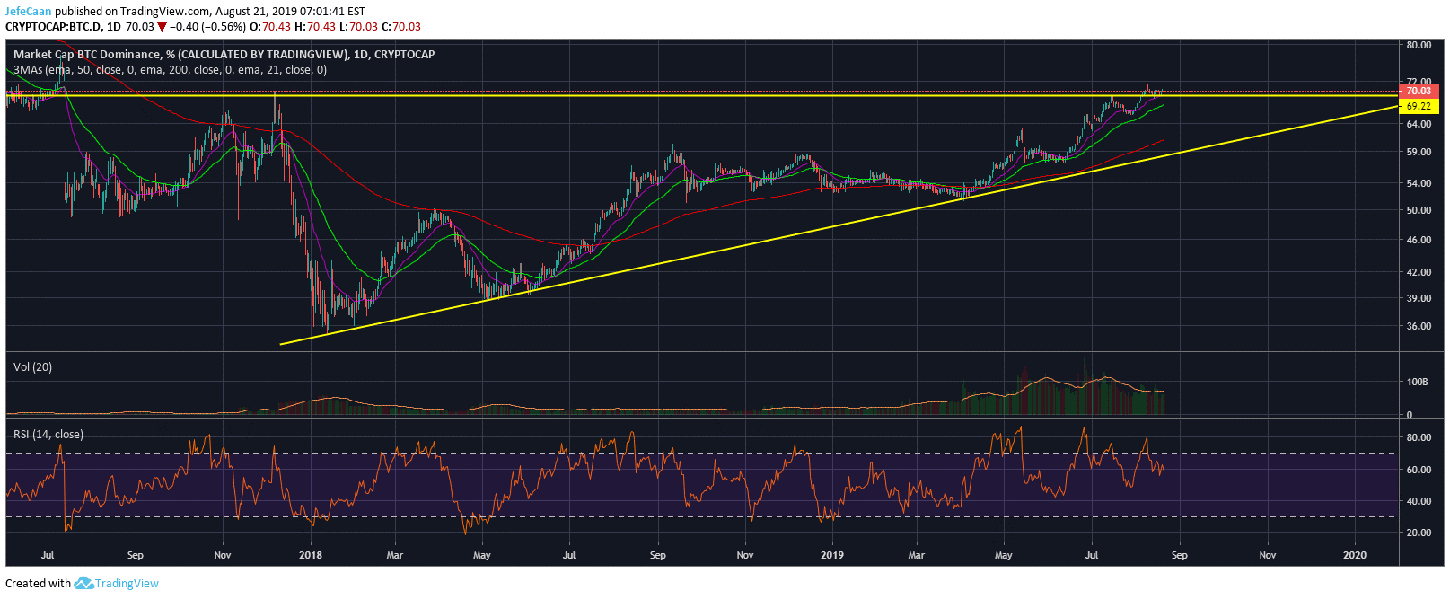 If we look at Bitcoin (BTC) dominance, we can see that it has just found support at the top of the ascending triangle on the daily chart. This would not be happening if we were in a bull market. If we were in a bull market Bitcoin dominance (BTC.D) would not be poised for significant further upside from here because in a bull market altcoins rally higher than Bitcoin (BTC). Bitcoin dominance remains in a strong bull trend and it is expected to rise above 80% in the days and weeks ahead.
In yesterday's analysis on Bitcoin (BTC) we explored the possibility of a move to the upside but we said that the probability of that happening is low. We still maintain that view and expect the price to decline to a four digit price before the end of the day. This will be devastating for Bitcoin (BTC) and other cryptocurrencies but it is perfectly in line with what is happening in the stock market and on the EUR/USD front. Bitcoin (BTC) might have a chance at global adoption someday but we are a long way from that yet. It remains a highly speculative asset that investors will be quick to panic sell soon as the proverbial hits the fan.