Ethereum (ETH) declines to a key support against Bitcoin (BTC) and so far it has successfully held that support. The weekly chart shows that ETH/BTC completed its correction when the price declined to the 1.618% fib extension level. The price is now expected to rise towards the 1.272% fib extension level from here but this does not mean that the price is out of the woods just yet. All it means is that Ethereum (ETH) could test the top of this descending channel once again just like it did the last time. In order for us to turn bullish on Ethereum (ETH) we will have to see the price break above the key support turned resistance level at 2,503,499 satoshis. So far that has not happened so we remain bearish on Ethereum (ETH) although we do believe that a short term relief rally is due now.

The altcoin market as a whole is under attack from all sides. Crypto influencers are attacking it, regulators are suspicious of it and investors are losing confidence in it. If the altcoin market tumbles further during Bitcoin (BTC)'s next decline, we will see some projects go belly up which then get regulators involved as people will try to get their money back and start suing these companies. This is not going to end well and before the bear market ends, we will see it inflict maximum pain on investors especially the overly optimistic bulls. People that got in late during the parabolic rally of late 2017-18 learned their lesson but after the first half of a boring bear market the rally after December, 2018 got a lot of people excited again and they are likely to learn their lesson when the price crashes hard from here.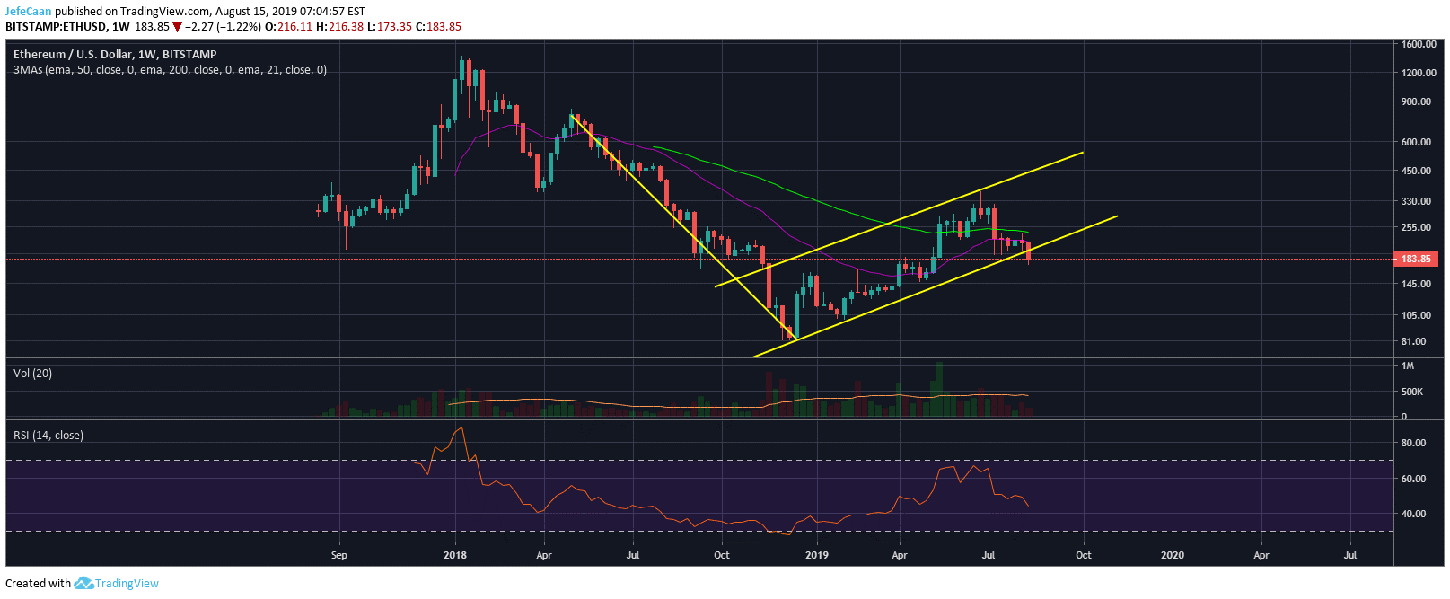 Before we get carried away by statements like "Ethereum (ETH) is holding support" or "it is going back up from here", let us not forget what is really going on. The weekly chart for ETH/USD shows us what is going on and that is the price has just broken below the bear flag. When the price breaks below a bear flag, it is usually an indicator of extreme further downside to follow. What we have seen so far is nothing compared to what is going to happen next.
Ethereum (ETH) has declined well below its 21 Week EMA and it is reasonable to expect that at some point it is going to go up to test the 21 Week EMA but that will only be an opportunity to short because there is no point to buying Ethereum (ETH) here, certainly not for long term investment. I'm surprised that some popular accounts on Crypto Twitter are asking their followers to "just keep on buying a small amount of cryptocurrencies every month regardless of the price". Why would you buy something that could lose 90% of its value from here? It is important to realize that even if an asset declines by 90% from a certain point, it can still decline 90% from its current value.