Bex500 is a relatively new cryptocurrency exchange that focuses on cryptocurrency derivatives, offering BTC, ETH, XRP and LTC futures contracts, Forex and Commodity with leverage. Founded in 2018, Bex500 has experienced exponential growth within 2 years, gaining popularity of 1,000,000 users from more than 50 countries. It also has become one of the best margin trading platforms, taking on heavyweights like BitMEX. Read on the full review and see what makes Bex500 a popular exchange for beginners, intermediate-level as well as professional traders.

Top 10 Reasons to Trade on Bex500
1. Easy Registration with NO KYC
Different from some other exchanges which require users to take long KYC approval processes during registration, Bex500 allows users to register without completing any sort of AML/KYC. Users can start trading after easy registration with email which can be finished in 10 seconds.
2. Mobile Support
Users can trade futures contracts on both computers and mobile phone, including iOS and Android. Download the Bex500 app from App stores or Google Play on mobile devices, users can control the positions anytime anywhere.

3. Fast and Secure Deposit & Withdrawal
Bex500 enables users to choose to deposit BTC or USDT. Users can easily deposit via the tamper-resistant wallet address or scan the QR code. No service charge for the deposit. To withdraw BTC or USDT from account, you just need to submit the withdrawal request form and the money will be soon credited in your wallet. No maximum amount limited.
4. Multiple Trading Products
Bex500 offers 100x leverage perpetual contracts for BTC/USDT, ETH/USDT, LTC/USDT and XRP/USDT trading pairs, Forex and Commodity. Users can go either long or short and profit whether the market is going up or down. Furthermore, Bex500 also provides an innovative and fun trading product – Double Contracts, which offers up to 200x leverage to crypto perpetual contracts.
For example, with 200x leverage, you can use 0.1 BTC to open a 20 BTC position. Suppose you bet on BTC price rising. If it did surges 1%, you will profit 0.2 BTC.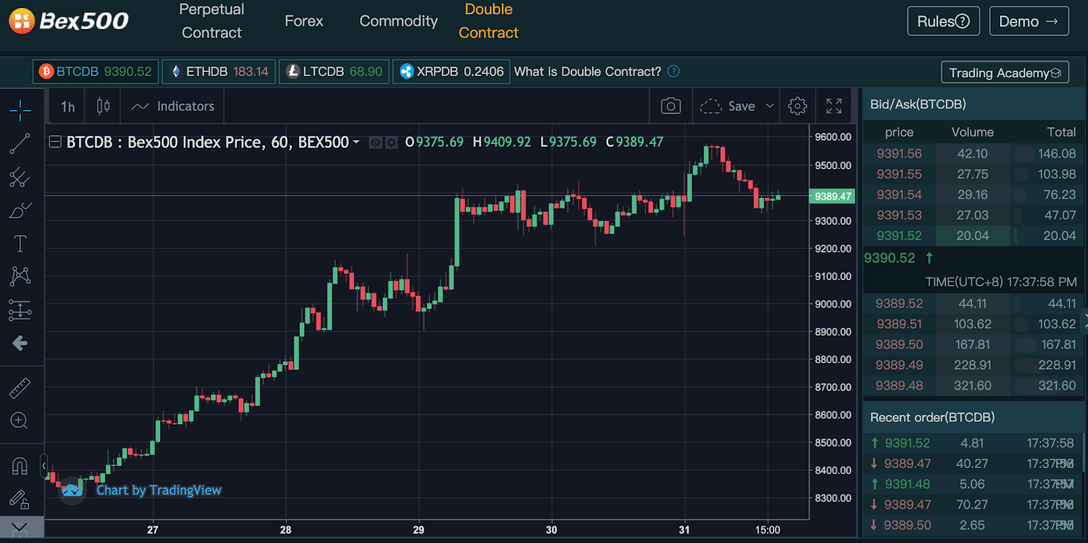 5. Fair Trade
Bex500's cryptocurrency price index is weighted average of those from top 4 exchanges, including Bitfines, Binance, Poloniex and Huobi Global. It also equipped with anti-manipulation mechanism in the trading system. Bex500 trading engine can execute 10,000 orders/TPS without latency even during strong market fluctuations, with Amazon's cutting-edge ElastiCache infrastructure.
6. High Security
Users' assets stored in Bext500 are kept in the offline storage system "Cold wallet", which is also under multi-signatured encryption. User accounts and assets are also protected by high level DDoS as well as 2FA authorization.
7. Lock Positions
In many futures exchange, if you opened a long position with 1 BTC and then opened a short position with 1 BTC, it would only close the existed position. Bex500 allows you to lock positions. In other words, you can open long position and short position with same amount of margin at the same time. If the market goes upward, you can keep the long position and close the short position to take profit and stop loss.
8. Trading simulator
Bex500 provides trading simulator with $5000 free margin. If you are a beginner or inexperienced in crypto futures trading, you can practice trading without losing money. You can also use P/L calculator to estimate the profit/loss before entering the trade at a precise price point.
9. Trading Academy
Professional yet easy to understand trading guides, including trading techniques introduction, trend analysis, technical indicators introduction, and etc. are available to both newbie and veteran traders in Trading Academy column. Bex500 aims at helping traders learn how to trade and get profits in crypto futures trading.
10. Bonuses program
In addition to the highlights mentioned above, what makes Bex500 so popular is its lucrative bonuses program:
$15 welcome bonus

for new registration.

20% extra bonus

for first deposit – deposit 1 BTC in, 1.2 BTC will be credited in the account.

3% interest

for storing BTC or USD in the wallet – deposit 10 BTC, 0.3 BTC will be the annualized interest. +

Affiliate program - Earn BTC without trading
Bex500 launched its high paying affiliate program recently. It provides up to 35% referral commission which is higher than the industry standards. All users in the platform can apply to join the affiliate program with ease. Bex500 recommends its users to be extremely active online, suggesting that they share their referral links via social networks, create videos and blogs explaining the benefits of trading on the platform, and be open and engaged in community discussions to build up their referral network. The more referrals you invited, the more BTC you will earn without any risk.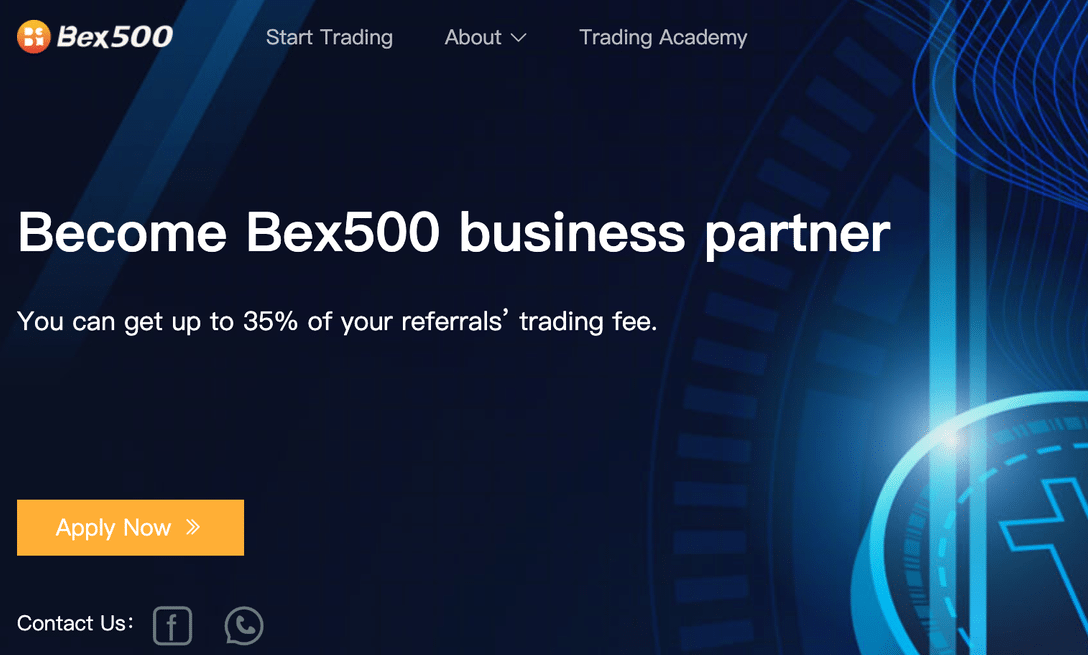 In Conclusion
Though Bex500 is a young exchange, it stands out from the margin trading platform competitions with its class-leading leverage of 1:100, an innovative trading product Double contracts with leverage of 1:200, user-friendly and professional trading interface, high secure trading system, trading simulator, low trading fee, and etc. Bex500 officially established for 2 years and has gone on to cement a good reputation in the industry. No matter you a beginner or experienced traders in margin trading, Bex500 exchange is a reliable and profitable platform for you.