Crypto exchange and processing platform ChangeNOW.io has announced that its new plastic Visa cards are now available for a pre-order. They are planned to be issued in Q2 of 2022.
The special ChangeNOW cards are designed for crypto payments at any online or offline shopping outlets that accept Visa. The list of currencies supported by the card will include all the cryptos available on ChangeNOW's crypto swap platform (over 300 coins and tokens at the time of publication) and fiats such as USD, EUR, and GBP.
ChangeNOW Visa cards are planned to be launched in the second quarter of the next year. The first batch of 10,000 cards can already be pre-booked by verified customers from the UK and EU at the cost of 50 NOW tokens. Users will not be charged for the use and maintenance of the card.
The pre-order option is available in the platform's marketplace which can be accessed through the Benefits tab of one's profile account.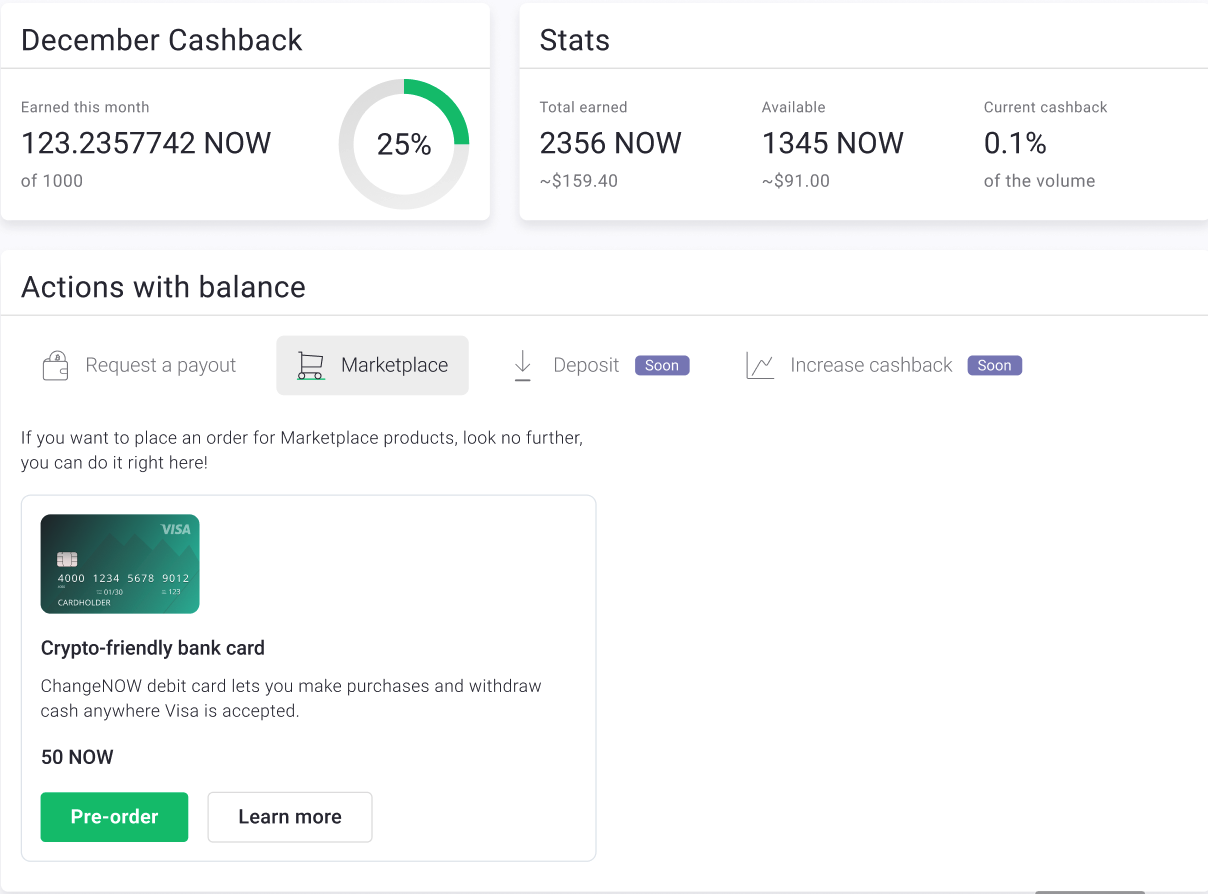 "One of ChangeNOW's goals is to make crypto accessible to anybody who is open to it. Shopping with digital currencies is a reality of 2021, and we will make it even easier with the help of ChangeNOW Visa cards," commented ChangeNOW's Head of PR Mike Ermolaev.
ChangeNOW reserves the right to modify the conditions, cancel, or limit the issuance of ChangeNOW cards. Users will be immediately notified if any changes are to occur. All customers are eligible for a full refund in case the issuance is postponed or cancelled.
About ChangeNOW
ChangeNOW is a limitless crypto exchange and processing service offering fast crypto swaps with no hidden fees. It supports a wide range of assets including over 300 crypto and 60+ fiat currencies. The transactions start from $2, have no upper limit, and take about 5 minutes to complete.
ChangeNOW remains one of the biggest proponents for crypto adoption among mainstream audiences and aims to provide a safe, private, and user-friendly environment as part of a larger string of efforts to push the crypto industry into the future.
Crypto exchange on ChangeNOW is fast, cheap, and transparent; users can swap crypto not only through the ChangeNOW website, but also via ChangeNOW apps on iOS and Android mobile devices.
Disclaimer: This article is provided for informational purposes only. It is not offered or intended to be used as legal, tax, investment, financial, or other advice.