Markets are awash with red. They have been for the last few weeks. Bitcoin is down 52% from its high in early November, and the rest of the crypto market is down a similar amount. The average retail investor is looking into the abyss.
If you are a recent investor in crypto then you are probably aghast at how much everything has fallen so quickly. Nearly 25% of bitcoin's value has been wiped off in only the last five days, and even Ethereum, the second biggest cryptocurrency by market cap, has fallen more than 34% in the same period.
Since chairman Powell of the Federal Reserve's recent announcement of an acceleration in tapering, ahead of rate hikes starting in March, the crypto market has been hit badly, along with traditional stock markets.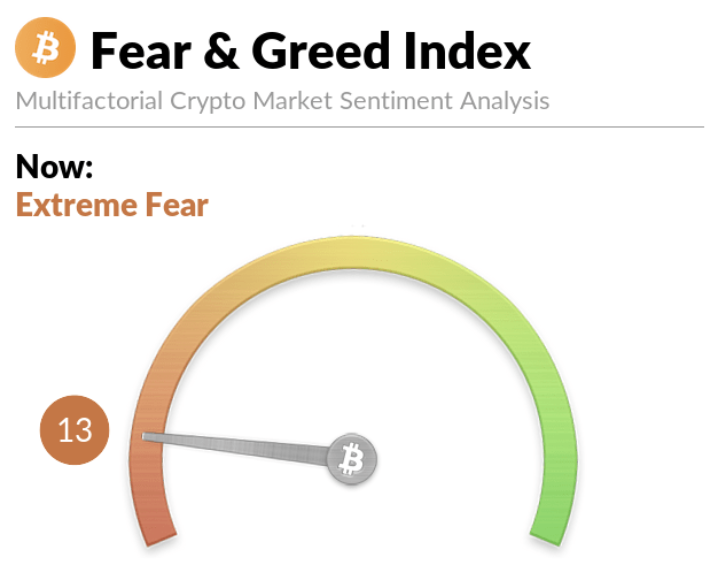 The Fear and Greed Index for crypto has been languishing in the red fear zone all week. It is currently reading 13, 2 points up from yesterday, but given the further price falls of today, we may even see it around 10 when it is updated for tomorrow.
An investor may have purchased bitcoin or another cryptocurrency for two main reasons. One, as a speculative punt to try and take advantage of high volatility causing big swings to the upside, and two, as a way of hedging against awful government handling of the fiat financial system.
Hopefully, many will recognise the second option as being by far the most important one.
It is indeed sad that many investors will probably sell their cryptocurrency in these downswings. For a lot of them, they just aren't able to hold onto an asset that might not get back to the value they paid for it originally, and so they are just cutting their losses.
For those investors who are able to suffer the downside without selling, well done for holding on. Of course, this is taking into account that the purchased crypto-assets are the more fundamentally sound ones, rather than a lot of the small cap cryptos that are more a prayer than a hope.
The financial future for all of us is likely to be rocky beyond anything that we have yet experienced, but just hanging on to the fiat in your bank account is akin to suicide, given its plunging purchasing power.
Yes, these are hard times to stomach, but becoming the real owner of your own money is something to strive for. Rather that than becoming a slave to central banks, and losing the freedom to spend your money how you like.
Disclaimer: This article is provided for informational purposes only. It is not offered or intended to be used as legal, tax, investment, financial, or other advice.